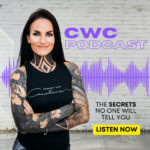 This week on the CWC podcast, I'm answering some of my most frequently asked questions and taking you guys back to the basics. This may be one of the most informational videos I've ever done! Topics include:
– My personal experience with having a coach (spoiler alert- it changed everything for me!)
– How to mentally, financially, and energetically prepare yourself for success
– Removing "good" and "bad" labels from foods
– Free meals, and how often you should be having them
– How to flex self discipline like a muscle
– Basic portion control
– Protein!
– Realistic exercise goals
– Having a plan when the motivation runs out
As always, please drop a comment or visit my Facebook or Instagram to share your thoughts on this video. I love to hear your feedback!
https://linktr.ee/carolinemathias