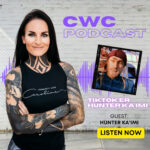 This week on the CWC podcast I have the pleasure of sitting down with famous TikTok'er Hunter Ka'imi. I came across one of Hunter's videos in my feed and it was hilarious. I was instantly drawn to his overall vibe and authenticity. His video topics range from his adorable Corgi, to politics, to social justice, to comedy. I knew instantly that I wanted him on the CWC podcast. We talk about how he grew his TikTok to over 600,000 followers in less than two years, how to brand yourself on social media, the importance of being humble, and much more. I can't wait for you guys to listen to this one- I know you are going to love him and his overall message. Check him out here and on TikTok!
Caroline's Linktree: https://linktr.ee/carolinemathias
Hunter's TikTok: https://www.tiktok.com/@hunterkaimi?
Hunter's IG: https://www.instagram.com/hunterkaimi/